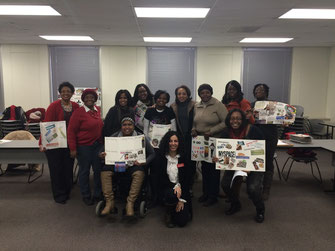 On January 10, 2015, the Schaumburg-Hoffman Estates Alumnae Chapter of Delta Sigma Theta Sorority, Inc., kicked off it's first session in a four part series called "New Year, New Me". There were 15 women in attendance. Session #1 focused on Visions and Goal Setting. The participants created vision board using magazines and cutouts to represent the Vision of the life they want to create. Participants left with homework to create short and long term goals and to identify accountability partners to increase their chances for success. Handouts from Session #1 are available below.

Session #2 is planned for February 14, 2015 and is still open to new participants. The topic for Session #2 is "Love Thy Self." The session will focus on self-awareness and how this is critical for goal achievement. Registration is now open for session #2. Please register here:
https://shacpmh.wufoo.com/forms/m6ymev21l5spdr/

The sessions are once a month and will conclude in April. The group meets on the second Saturday of the month from Noon-2:00pm at Roosevelt University in Schaumburg, IL, in room 329!  We hope to see you soon! Email info@dstschaumburg.org for more details.